We had over 30 of you link up with us last week for our very first mixer! The party is just getting started though–for our second week we would love it if you each brought a friend! 😉
What is The More Than Mommies Mixer?
The Mixer is designed to help you check out and share 
Blogs
, 
Facebook pages
, 
Twitter Handles
 and 
Pinterest Boards
!  You can jump on all the Linkys or only the ones that you feel like doing this week.  We will be here each week: so maybe you want to do GFC on your blog this week and Facebook next week, then hit up the Twitter Boards and Pinterest Boards the week after that.  It's totally up to you!
Here are the "rules"
(Don't make us post bouncers at the door.)
Follow your Hostesses – Christine and Janene from More Than Mommies
Follow our Co-Hostess – Meredith at The Mom of the Year
Follow the Life of The Party – this week it is Suzi at Motherhood Looms (we choose a different Life of The Party EVERY week! All you have to do to be in the running is Tweet about us using the #MTMmixer hashtag –   )
Follow our Mixologist – Deb at Raising Figure Skaters!  Every week we will choose one participant to get our party started at the #4 slot.  All you have to do is link up (and follow the "rules") to be considered!
Follow the person directly BEFORE you on the hop!
Finally, we ask that you post one (or both!) of the following buttons in either a post or on your sidebar to let other people know where you are partying today!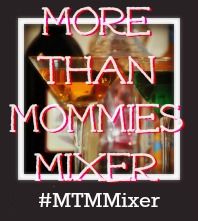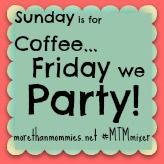 Then feel free to party hop around the rest of the list!
The fastest way to see success for your blog in a blog hop is to head on over to other blogs, comment, follow and ask them to swing by and party at your place!
Rest assured, Christine and I will visit each and every person who links up and we will follow you back!  We couldn't be more excited to get to know you and visit your "homes" on-line!
A note from Suzi: Wow.  Life of the party?  It's a pretty interesting thing to be for a geeky stay at home mom!  It's nice to meet all of you.
So what are you waiting for?  (Me to stop rambling, right?)  Jump in and let the MiXiNG begin!!!
Add your GFC/RSS links here:


Add Your Facebook Links Here:
Add Your Twitter Links Here:

Add Your Pinterest Links Here: